As a greater number of individuals are developing an interest in appreciating fine wines today, electric wine coolers have become more important for household storage needs.
Many people simply do not have the money, space, or dedication needed to possess a true wine cellar, or even consider buying a large wine rack requiring assembly. Electric wine coolers, also known as wine refrigerators or wine coolers, can become the ideal solution to answer these needs.
This article considers the elements inherent in, as well as some of the makers of, the best electric wine coolers currently available.
Electric Wine Coolers Available On Amazon.com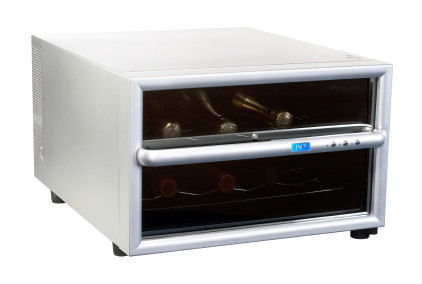 Considerations for a Quality Electric Wine Cooler
Since many people maintain a higher house temperature than is ideal for consuming wines, electric wine coolers are useful not just for storage needs but also to effectively chill the wine bottles themselves. Such electric wine coolers come in most any price range or size to appeal to any individual. There are a number of important elements to think about in purchasing a wine cooler. Among these are the items listed below, as follows:
Dual Zone Refrigeration – Many individuals who drink both red and white wines find that they do not like their white wine chilled before they drink it. For anyone who falls in to this category of wine connoisseur, the solution is available. One can purchase a dual zone refrigerator, which features two different compartments with varying temperatures and individual temperature controls.
Vibration Control – If the person plans on storing wine bottles for any length of time, or on purchasing high quality wines, then vibration control is essential to keep the bottles from shaking and damaging the body of the wine.
Humidity – the right level of humidity is necessary to keep the air circulating inside the electric wine cooler. If this level of humidity is not properly achieved, then mildew and mold could form inside the cooler, on the bottles, or on the corks even.
Insulation – a better electric wine cooler will feature a greater degree of insulation, and even specifically treated glass which will allow for a consistent temperature to be maintained. This proves to be important for anyone who keeps his or her wine cooler in the garage or some other location where the temperature goes up and down significantly.
Capacity – the quantity of wine bottles which any electric wine cooler will contain is an important factor, as well. For anyone who is a novice at purchasing and collecting wine bottles, he or she should purchase a wine cooler which features a bit more capacity than is believed to be necessary.
Adjustable Shelving – this criteria become important for anyone who might consider collecting or storing Champagne bottles too, or any other bottles which proves to be of an unusual size. Not too many people want an electric wine cooler which has racks that require the wine bottles to be stacked atop each other in order to reach the advertised holding capacity.
Automatic Temperature Control – higher quality electric wine coolers come with this feature, as well as an easy to read digital display. Setting up the temperature and keeping an eye on it is simple.
Glass Doors – getting an electric wine cooler with glass doors permits the proud owner to both show-off a little bit to guests and to admire their own growing collection of wine. Such coolers that come with double paned glass doors offer a more energy efficient mode of operation and good thermal insulation.
Smaller Electric Wine Coolers
Any individual who dwells in an apartment, or a small house where space proves to be at a premium, or who simply only needs a few bottles of wine around the home, will be better served by a smaller electric wine cooler. The other advantage to these is that they are less expensive than the larger models, as well.
For probably the highest quality electric wine cooler available, consider the Eurocave brand. This company's wine coolers certainly do the job well. Not simply maintaining wine bottles at the optimal condition, they are beautifully constructed, too. Said to be the best electric wine coolers on earth, they are now sold in more than seventy countries and maintain wine at exact humidity and temperature levels. The La Petite model holds up to twelve bottles and is priced from $1,400.
Another fine high quality smaller electric wine cooler is the Chambrer WC400-137 Thermoelectric Wine Cooler. The Chambrer is a highly compact wine cooler which only holds four different bottles of wine. It requires a very small space and offers good wine bottle storage. At the same time, this proves to be a nice looking unit to complement an owner's existing kitchen appliances. It allows for four of the 750 milliliter bottles to be contained, or several of the bigger 1,500 milliliter bottles, alternatively. At a price range from $120 to $160, this is an affordable but desirable model.
Medium Sized Electric Wine Coolers
Medium sized electric wine coolers typically hold between forty and sixty wine bottles, and are ideal for a new wine bottle collector who is interested in more than just a few bottles to choose from at the dinner table. A good brand in this category is the Marvel 6SWCE 54-bottle wine cooler. These high quality models range in the $1,400 to $2,000 price range.
Electric Wine Coolers That Look Like Furniture
It may surprise the wine collecting novice, but many electric wine coolers could easily be mistaken for furniture. Such coolers are known as thermoelectric wine coolers.
These wine coolers' decor can come in a surprising range. A number of woods are available from which to choose, along with additional decorative features. These combine to make certain that the electric wine cooler enhances, rather than detracts from, the appearance of any room. Some of them look like credenzas which are refrigerated, or other high quality, high end furniture which could be effectively put in any room of the home.
Since some of the joy inherent in storing and collecting wine lies in showing it off to friends, family, and guests, having a nice looking wine cooler is always a sensible idea. What good is it to have fine wine bottles, only to showcase them in a cheap wine cooler, after all?
A fine example of this type of electric wine cooler is the Vinotemp Portofino Hamilton 2-Zone Wine Credenza, which contains as many as 40 bottles and also has a terrific appearance with the black hard-wood cabinet featuring double glass doors. Its price ranges from $1,300 to $1,600.